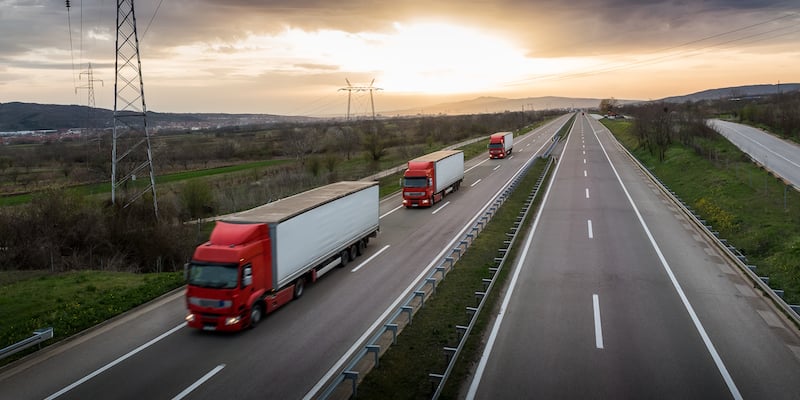 From March 2017 through March 2018, trucks moved 62.9% of all freight carried throughout the United States, Canada, and Mexico. The percentage hauled by rail — trucking's nearest competitor — paled in comparison at only 15.2%.1 The dollar value equivalent of the freight is $66.5 billion and $16.1 billion, respectively, further underscoring the heavy reliance many industries place on trucking as their preferred mode of freight transport.1
The sheer volume of goods moved has fleet managers on their toes, and truckers consistently on the road. Keeping track of what's where and when — not to mention the myriad of details such as legal and physical restrictions, environmental zones, and certain driver-centric information — is a constant challenge.
HERE Trucks, a HERE add-on content offering, is a database of relevant attributes for logistics management, bundled to enable sophisticated truck navigation as well as routing and dispatch optimization. HERE Trucks map data provides fleet managers and drivers with easy access to route-critical information that — if overlooked — could put drivers' safety at risk, or possibly result in fines, wasted time, and missed deadlines:
Restrictions
HERE Trucks includes specifics on route prohibitions related to:
Legal restrictions on truck and/or trailer use on certain roadways

Environmental restrictions which limit or ban truck travel due to ecosystem protections

HAZMAT restrictions that forbid the transport of hazardous materials
Safety
Some routes present circumstances that could endanger drivers, vehicles, and loads. HERE Trucks minimizes risk by detailing:
Warnings which include information on the location, any posted warning signs, and the type(s) of road conditions present that impact trucks (such as lateral wind or grounding risk)

Access limitations that identify areas where truck height, weight, or other physical dimensions restrict or prohibit road use in order to protect travelers
Navigation
In addition to keeping drivers safe, HERE Trucks keeps them well-informed about the road and route ahead:
Distance markers plot out exact locations, sign numbers, and road distance indicators

Preferred truck routes identify which links simplify truck travel

Truck POIs provide insights about truck fuel stations (e.g., those offering low-emission fuels and additives) and practical information about truck facility amenities

Loading dock locations pinpoint facilities' designated loading/unloading areas, truck entrances/exits, and related layouts
HERE Trucks is as versatile as it is efficient. Map data is available for 68 countries and territories throughout the world. Contact ADCi to find out more about HERE Trucks, other powerful HERE add-on content, or request a sample of HERE map data. Click the button below to get started!
SOURCE
1U.S. Department of Transportation, Bureau of Transportation Statistics, March 2018 North American Freight Numbers, May 22, 2018
https://www.bts.gov/newsroom/march-2018-north-american-freight-numbers