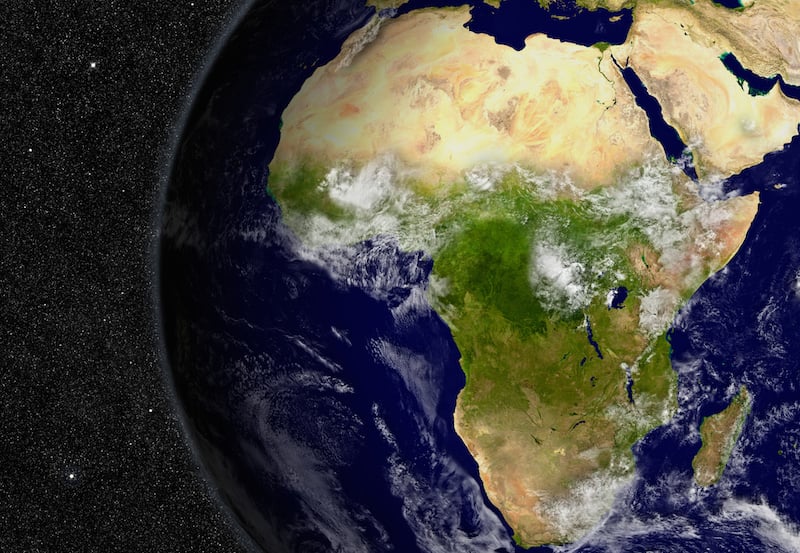 Data
GIS Expansion into Africa using ADC WorldMap
April 20, 2021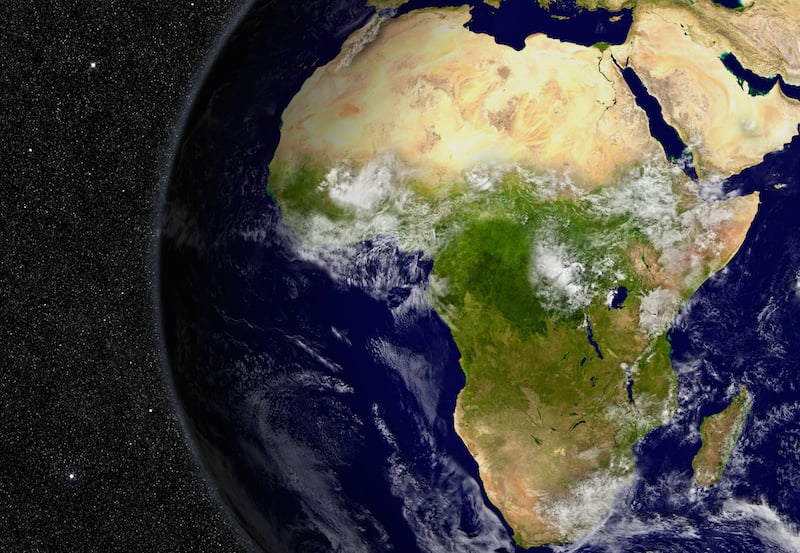 COVID-19 has highlighted the fault lines of Africa's health and infrastructure – a decades-long challenge that's slowly being overcome. In the past twenty years, the development of retail, industry, and foreign direct investment by other countries has leveraged and showcased the great potential within the continent.
As disseminators of information on Africa through AfricaProfiler, Market Decisions realizes the impact that government and business collaboration could have in ensuring Africa GIS data is understood, applied, and instrumental in the growing continent.
To that end, reliance on Africa Profiler for data accuracy, consistency, and quality is imperative since analytics drive strategic decisions. As a comprehensive, spatially enabled database that provides macro information on African countries' census, demographics, populations, and more as illustrated by this example of mapped population by province: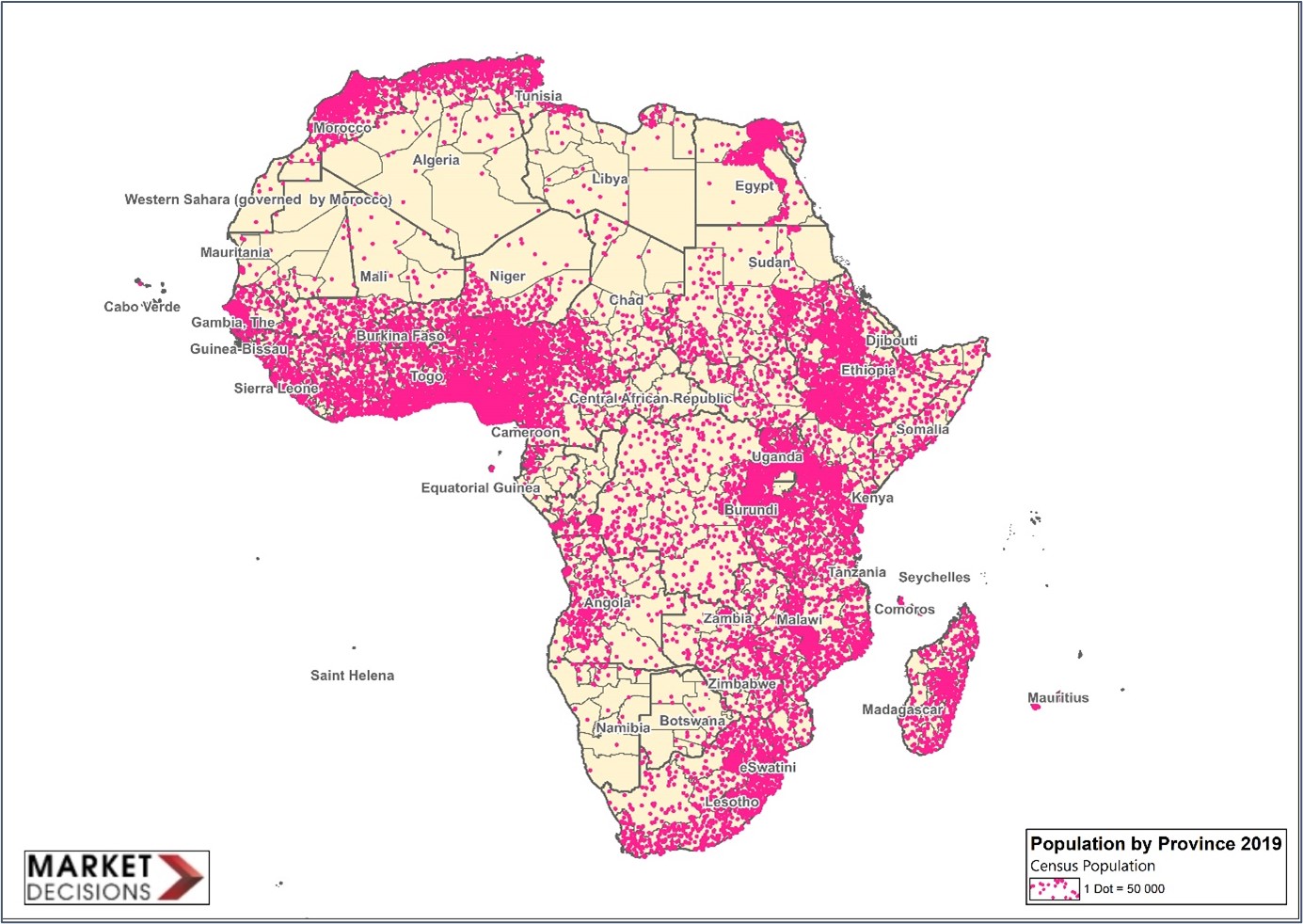 Source: Market Decisions
Africa Profiler is a beneficial foundation. Incorporating ADC WorldMap only strengthens data reliability and outcomes, especially as artificial intelligence (AI) moves into the realm of solutions for several post COVID-19 challenges:
1. Creating a National Policy on Data
Encouraging all countries to establish national GIS policies to address key issues and problems, including data standardization, information sharing, ownership, confidentiality, and copyright protection is vital. The Africa Continent Free Trade Zone (AfCFTA) will probably hasten this process as the majority of African Union nations are onboard with the flagship project for inclusive growth and sustainable, trade-related development in a fully integrated continent.

Quite often databases are not available through regular government channels, requiring access to datasets through the internet – an often time-consuming and confusing process.

ADC WorldMap enabled a clear understanding of datasets. Detailed Africa GIS data was easily accessed within the ADC WorldMap:
Current country and first level political boundaries for the entire world
Second level administrative boundaries in 148 countries worldwide
45 detail-rich layers and tables


2. Ongoing Education and Skills Development
Both universities and the private sector need to be involved in ongoing education and skills development to support growth initiatives in Africa. Using ADC WorldMap has been integral in both areas due to comprehensiveness in country demarcation of city and provincial boundaries and other detailed information related to the continent.
Further, the study of GIS in policy making requires constant review of development for government, business, and the private sector. ADC WorldMap provided the capability to produce data from both outside sources and internally. Greater still is how it provides the Africa GIS data that underpins census updates for all countries to align with the United Nations Strategic Development goals.

3. Improving Access to GIS Systems
In 2000, only 4 million Africans had access to the internet. Today, the figure is over 500 million users connected through desktops or smart devices. The continent is facing the technology revolution head-on, and with that came the need to find mapping software that wasn't cost-prohibitive for many historically poorer nations. With ADC WorldMap, the digital divide is closing and spatial data collection has improved, too.

4. Collaboration
GIS technology has origins in the defense industry. Today its use has expanded to multiple domains within the economy including health, transport, demography and private businesses.
As such, GIS systems and analysis are often unique rather than standardized. Since different sectors present and use the data differently, collaboration and compromise in designing models is important. With Africa Profiler and ADC WorldMap, collaboration can be accomplished more accurately and in a fraction of the time previously spent using manual methods. Having this information electronically allows seamless movement between online and offline to accommodate the various servers within countries.

Africa Profiler has established critical relationships with key GIS user partners and services like ADC WorldMap to accomplish a substantial and elemental goal in furtherance of AfCFTA and other growth-based initiatives: improving the basic GIS architecture for the expansion of GIS across Africa to interconnect the continent, trade, and people through greater web services and knowledge.

Contact the ADCi team for more information and licensing options for ADC WorldMap.