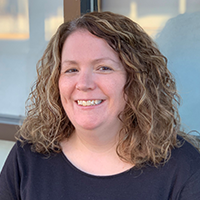 Stacie Stobbe
Director of Sales
Tell Us About Yourself
How long have you worked at ADCi?
Since July of 2013
Education
I have a B.A. in Communication from Marian University in Fond du Lac, WI. I also have Associate Degrees from Northeast Wisconsin Technical College in Graphic Design and E-Business Technology Specialist. I have worked in the marketing/sales/customer service field for over 15 years.
Hometown
De Pere, WI
What's best about working at ADCi?
I don't really have any hobbies. I am a mom to a 4 year old and a 6 year old – they keep me on my toes.
What do you enjoy doing in your free time?
I enjoy camping with my husband, kids, and dogs.
Where is your favorite place to travel to?
I would love to go on an Alaskan Cruise.
If you were an animal, what would you be?
An elephant – they are strong, intelligent, loyal to their group and unstoppable.
What can't you live without?
My family
What do you want most: flying cars, robot housekeepers, or cities on the moon?
Robot housekeeper