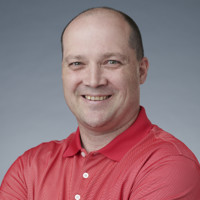 Position: President
How long have worked at ADCi? Since August of 2005
Education/Background: BS Mechanical Engineering – University of Wisconsin and MS Engineering Management – Milwaukee School of Engineering (MSOE)
Where is your hometown? Fond du Lac, WI
What do you like best about working at ADCi? The staff at ADCi and the variety of customers we get to work with on a daily business.
What do you like to do in your free time? Family vacations, golf and watch sports either on TV or at the stadium.
If you could travel anywhere in the world, where would you go? Australia
If you were an animal what would you be? A dog because I love our two dogs. However, according to an online quiz I'm more like a cat.
Where is your favorite place to eat? Wildflower Pizzeria
What is one thing you couldn't live without? Coffee
Which one would you want most – flying cars, robot housekeepers or moon cities? Robot housekeepers to help clean up after our two teenagers and two dogs.