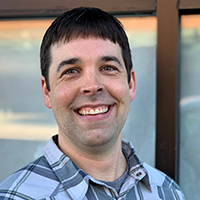 Position: GIS Specialist
How long have worked at ADCi? Since May of 2014
Education/Background: Bachelor's degree in Biology/GIS from the University of Wisconsin – La Crosse
Where is your hometown? Neenah, WI
What do you like best about working at ADCi? GIS is a fast-moving industry, so I'm constantly learning new things; from GIS techniques, to new software and Python programming.
Do you have any hobbies? What do you like to do in your free time? Anything outdoors with my family. Road and mountain biking, skiing, camping and hiking.
If you could travel anywhere in the world, where would you go? Finland
If you were an animal what would you be? Mountain Lion
Where is your favorite place to eat? Any Mexican restaurant that isn't Taco Bell.
What is one thing you couldn't live without? iPhone
Which one would you want most – flying cars, robot housekeepers or moon cities? Definitely robot housekeepers! With two young kids and a dog it's impossible to keep our house clean!