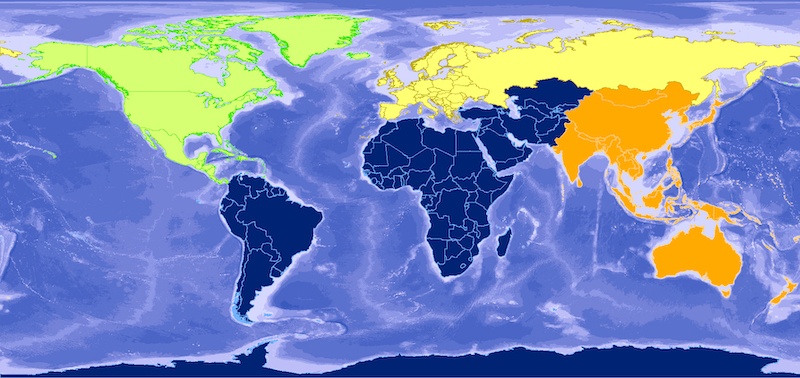 Digital mapping is dynamic, so the tools of the trade must evolve with user needs. ADC WorldMap is a proven solution for a variety of industries including weather, communication, aviation, government, fleet/logistics management and transportation — a testament to the versatility, reliability and value of this powerful digital atlas.
With so many features already packed into the current version of ADC WorldMap, users are wondering what enhancements they can expect with the annual upgrade due out November 6, 2018. Here's a sneak peek into what ADC WorldMap v7.5 has to offer.
New Features
ADC WorldMap v7.5 includes everything v7.4 is known for — seamless geographic data for the Whole Earth at a 1:1,000,000 map scale, current global country and first-level political boundaries, and second-level political boundaries in 148 countries — plus these exciting new features:
Flexible licensing: ADCi understands that each customer has unique needs, and flexes its licensing to include the Whole Earth, a volume, a country or even certain layers of data.

World Admin 3 Layer: With v7.5, more than 60,000 Admin 3 boundaries are available.

Major & Minor Routes: Additional Major & Minor Routes were added in the United States, Australia and Russia.

Railroads: More than 600 railroads have been added in the United States, Australia, Ecuador, Kazakhstan, Poland, England and France.

Built-Up Areas: This layer has been improved in the United States and Canada.
Layers and Tables
With ADC WorldMap v7.5, users have access to 45 detail-rich layers and tables including:
Cities

Capitals

Seas and Bays

POIs

World Coastlines


Parks and Protected Areas
Formats
ADC WorldMap v7.5 is available in a variety of file formats including .shp, .gdb, .tab and Oracle 12c. Sample your preferred format for free.
The release of ADC WorldMap v7.5 reinforces the commitment ADCi has to providing customers an in-depth, economical, and essential tool for mapping applications. Contact ADCi today to learn more about ADC WorldMap and other solutions we have for digital map data and services.