TomTom vs. OpenStreetMap (OSM)
A Brief Comparison of Attributes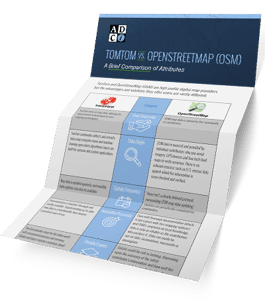 When it comes to digital map data providers, two names often top the list — TomTom and OpenStreetMap (OSM). Both are well known, but are they comparable?
Our infographic, TomTom vs. OpenStreetMap (OSM): A Brief Comparison of Attributes, provides a side-by-side look at the two providers and the benefits users can expect from each in nine key areas, including:
Data ownership, origin and privacy
Updates
Reliability and accuracy
Licensing
And more!
Complete the form to access your copy of this valuable reference tool now.