HERE vs. Mapbox
Comparing Location Intelligence Attributes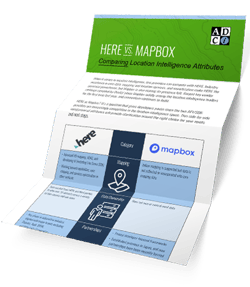 Location intelligence is essential for developers. So is a value-added partnership with an API/SDK provider that fits needs and goals.

Our easy-reference infographic HERE vs. Mapbox: Comparing Location Intelligence Attributes is central to an informed choice between two leading providers based on key factors, including:
Mapping
Data Ownership
Accessibility/Secuirty
Partnerships
And more!
Simply complete the form to access your copy of this valuable side-by-side comparison now.